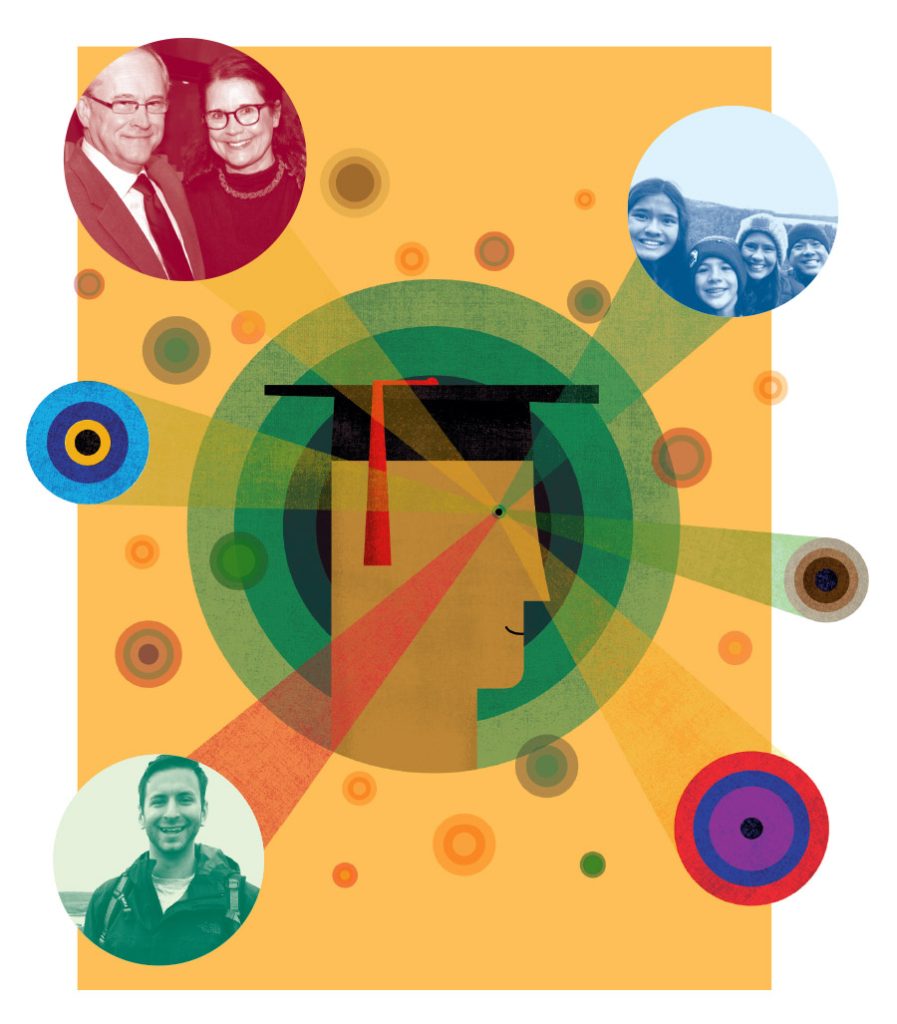 When John Finnegan began his leadership position at the School of Public Health, his family invested in the future of public health by creating and endowing the Finnegan-Mosberger Family Fellowship. Now he retires, leaving a lasting legacy.
This year, John R. Finnegan Jr. retires, ending his 17-year tenure as dean of the School of Public Health. When asked to name some of the highlights from his time in office, Finnegan thoughtfully lists the following important milestones that happened on his watch.
He explains that expanding and diversifying the student body, as well as the faculty, was one of the first major changes that contributed to the school's thriving. When he came into the role of associate dean in 1998-2003, he actively worked to increase enrollments, and by the time he assumed the role of dean in 2005, the student body had grown 65%. Today that population is 31% Black, Indigenous, and students of color. The faculty also grew by more than 40%, and more than half of faculty members are women.
More highlights from Finnegan's tenure include the re-energizing of global relationships; advancing e-learning; strengthening SPH's commitment to community engagement; and providing leadership support for cultivating an antiracist climate at SPH, especially in the wake of the murder of George Floyd and the recognition of structural racism as a public health crisis.
"No leader can take credit alone," Finnegan says. "It's about committed staff, faculty, and students who support change and come together to make it happen."
Running parallel to the highlight reel from Dean Finnegan's tenure is his and his family's philanthropic contribution to the advancement of public health. In 2005 when he was officially named dean, Finnegan and his wife, Jan Finnegan (née Mosberger), had a conversation about marking the moment, wanting to do something meaningful. Together, they established the Finnegan-Mosberger Family Fellowship, to be awarded to PhD-seeking students in the School of Public Health. The fellowship's funding includes contributions from others in the Finnegan family, including both John's and Jan's parents.
"We're investing in a future that's going to be better."

Dean John Finnegan
"Contributing to improving this world has always been paramount to John and me," Jan Finnegan says. "What better way to do this than through helping others to help others? With support from the scholarship, recipients are able to gain the education to make this a better planet. We are forever grateful to these graduates in public health and the essential work they do throughout the world."
Having come from a family active in public affairs, John Finnegan says that living a life of public service was ingrained in him from an early age.
"[My parents'] orientation toward public service and the common good was always a light," he says.
SPH awarded John Li the first Finnegan-Mosberger Family Fellowship in 2006. At the time of his acceptance to SPH, Li had a family to support. "When the letter came offering the scholarship, it was a pretty big relief to know that I could focus on school, do the research I wanted to do, and pursue a PhD," Li says. Today, Li is a senior director at Optum Insight.
The 2020-2021 fellowship was awarded to Andrew Shermeyer, a second-year PhD-seeking student who's interested in researching health insurance and access to care. "One of the things I'm passionate about is people actually being able to get the insurance and coverage they need," Shermeyer says. "I was very humbled to receive the fellowship. It's given me a sense of confidence."
To date, 24 doctoral students at SPH have received a Finnegan-Mosberger Family Fellowship.
"We're investing in a future that's going to be better," John Finnegan says. "That's what drew me into public health originally: the idea that public health is so vested in human thriving, so vested in promoting health and well-being, and in knocking down those elements that obstruct health."
Thinking about the many students he's met over his tenure as dean, Finnegan says, "One of my favorite times of year is commencement. All of those people who trained to be practitioners and public health scientists. That's the greatest gift to the future that the school could give. That's what drives me as a dean. And that gift will go on long after I'm gone."