Too often, human intrusions into the natural world for food, fuel, or even play end with unexpected and damaging consequences.
The origin of HIV is speculated to be a wild chimpanzee killed for food in the 1920s, perhaps in the Democratic Republic of Congo. The 2014-2016 Ebola epidemic in West Africa began when a toddler named Emile Ouamouno — now considered "patient zero"— played in a hollow tree infested with bats, animals that are natural reservoirs of the Ebola virus.
When a virus jumps from the animal world to the human world, it's called a "spillover" event and involves zoonotic diseases, those that pass between humans and animals. The Centers for Disease Control (CDC) estimate that 60% of new or emerging infectious diseases in people come from that interaction.
At their worst, these diseases can wreak havoc on human populations. What we're living through now with COVID-19 is proof of that havoc.
The latest thinking is that SARS-CoV-2, the virus that causes COVID-19, came from bats, which are also well known reservoirs of coronaviruses. If the virus did spillover in a live animal market in Wuhan, China as researchers speculate, it may have happened after an animal sold there for food was captured in the wild after coming into contact with bat feces or saliva.
A recent paper in Science, estimates that there are between 631,000 and 827,000 yet unknown viruses that have zoonotic potential. And the possibility increases as we create more intersections of nature, animals, and humans.
Deep connections
In 2004, the non-profit Wildlife Conservation Society introduced a "One World, One Health" concept at an international conference. The idea recognized that the health of all elements of an ecosystem rises and falls as one and must be approached in a coordinated way. Now simply called "One Health," the approach bands together experts in a wide range of fields to explore the nature/animal/human ecosystem and to prevent tinkering with one part from sparking a chain reaction — such as a pandemic — that engulfs the other parts.
Jeff Bender is a professor in the U of M School of Public Health, a veterinarian, and director of the Upper Midwest Upper Midwest Agricultural Safety and Health Center (UMASH). Bender is a leader in turning the One Health vision into reality.
"One Health involves understanding the roles and relationships among humans, animals, and the environment and bringing in multiple sectors and getting them communicating and working together," Bender says.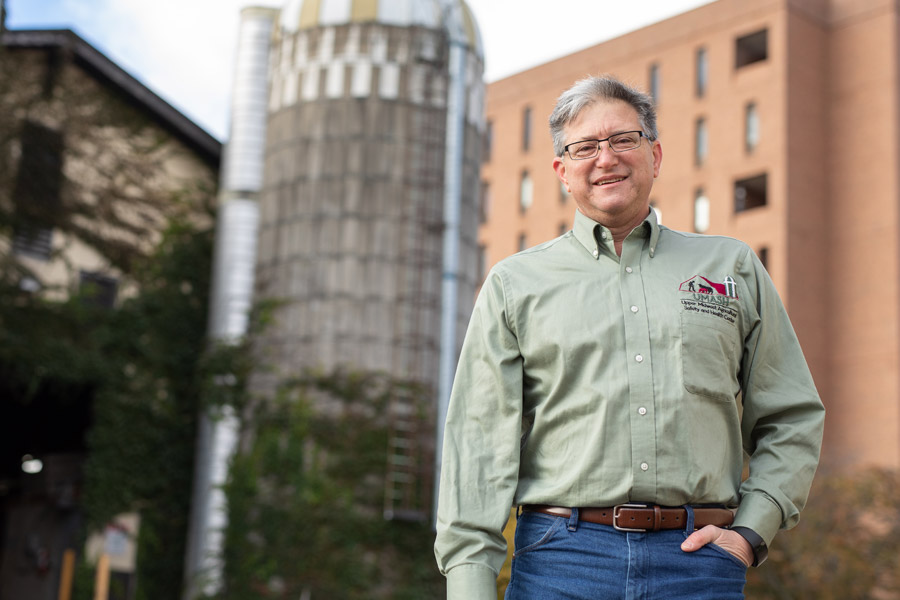 That relationship among all elements of an ecosystem has been growing more and more intimate as humans expand into wild areas for shelter and food or clear land for crops and grazing; as climate change creates climate refugees and weather conditions favorable to disease spread; and as people move much more easily around the globe, increasing chances of transmitting diseases.
After co-leading a U.S. Agency for International Development (USAID) Emerging Pandemic Threats program from 2009-2014, Bender and Katey Pelican, an associate professor in the College of Veterinary Medicine, are now leading another USAID project called the One Health Workforce. The project trains African and Southeast Asian university faculty and students to teach about and set up One Health workforce networks to try to prevent disease incidents and to intervene if necessary.
In 2015, a One Health approach was critical to curtailing an outbreak of avian influenza H5N1 virus in Minnesota. Experts from Minnesota's Department of Natural Resources, Board of Animal Health, Pollution Control Agency, and Department of Agriculture; the USDA and CDC; and the state poultry industries worked together to stop the spread.
"As a result of working together on the avian influenza outbreak through a One Health approach, the agencies involved improved their communications and their plans for future emergency responses," says Bender.
Predicting the future
Michael Osterholm is University of Minnesota Regents Professor in the School of Public Health and director of the Center for Infectious Disease Research and Policy (CIDRAP).
He is one of the world's leading experts on infectious disease spread, prevention, and control.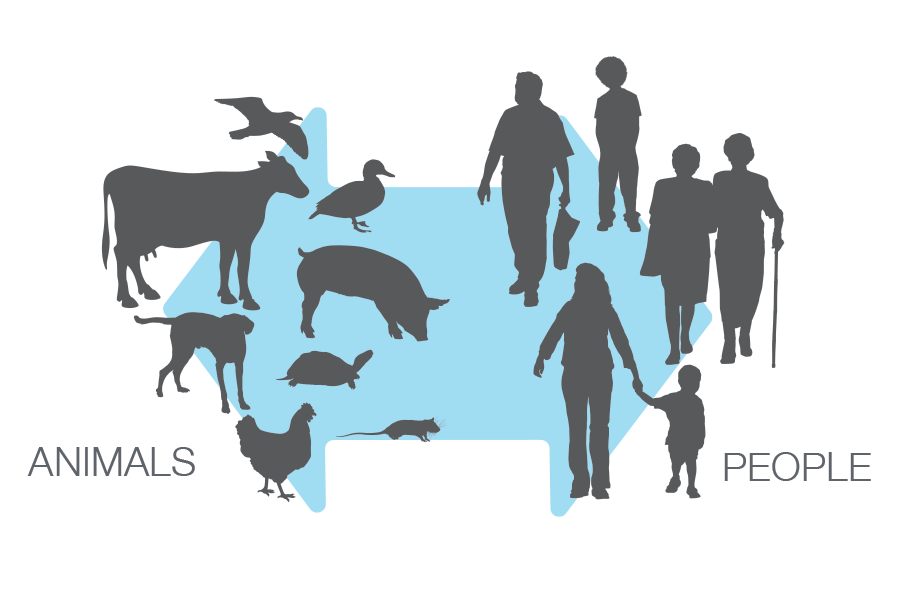 In his 2017 book, "Deadliest Enemy: Our War Against Killer Germs," Osterholm offers nine priorities to prevent a catastrophic infectious disease outbreak for humans and animals. One of those priorities is to adopt a One Health approach and to recognize that human and animal infectious diseases must be managed as one discipline.
"There are many, many bacteria and viruses in the animal kingdom that pose a risk for humans, but we don't know which ones," Osterholm says. "Even with a One Health approach, we could not have picked out the virus causing COVID-19 ahead of time."
But Osterholm believes that we can use a One Health approach to do more surveillance of coronaviruses in the wild to possibly identify a threat. Then we could design diagnostic tests ahead of time and develop vaccine platforms. If another coronavirus should emerge in humans, we could go quickly into vaccine production and avoid another disastrous pandemic.
One Health is now at play in the current pandemic as news is emerging of the virus' ability to spill back from humans into their pets, especially cats, though it is still a rare occurrence.
Be prepared
As COVID-19 makes headlines, other natural and human-made disasters with implications for global health are brewing. Although One Health is about preventing those disease outbreaks before they start, that common sense approach does not lead to robust funding. Political leaders are reluctant to spend money preparing for threats that may not materialize. Osterholm blames the whole attitude toward prevention on a "lack of creative imagination" — humans simply don't have the mindset to see a threat on the horizon and believe that it will truly materialize.
But there are signs that One Health is garnering more recognition.
U.S. Senators Tina Smith (D-MN) and Todd Young (R-IN) are co-sponsoring the Advancing Emergency Preparedness Through One Health Act to bring the One Health approach to federal agencies. Pelican is advising Sen. Smith.
"This bill will force different agencies to make a platform for coordination and collaboration," Pelican says. "With COVID-19 around, it has a better chance of success."
---
Big Needs for a Tiny Pest
A problem unfolding across the Midwest when it comes to One Health is the spread of Lyme disease. Jon Oliver, an assistant professor of environmental health sciences at the School of Public Health, studies the spread of ticks and how Borrelia bacteria that cause the disease interacts with other bacteria in a tick's gut.
"There's a ton of discrete factors that affect tick spread, but it has more to do with land and wildlife management strategies than people carrying ticks from place to place," Oliver says.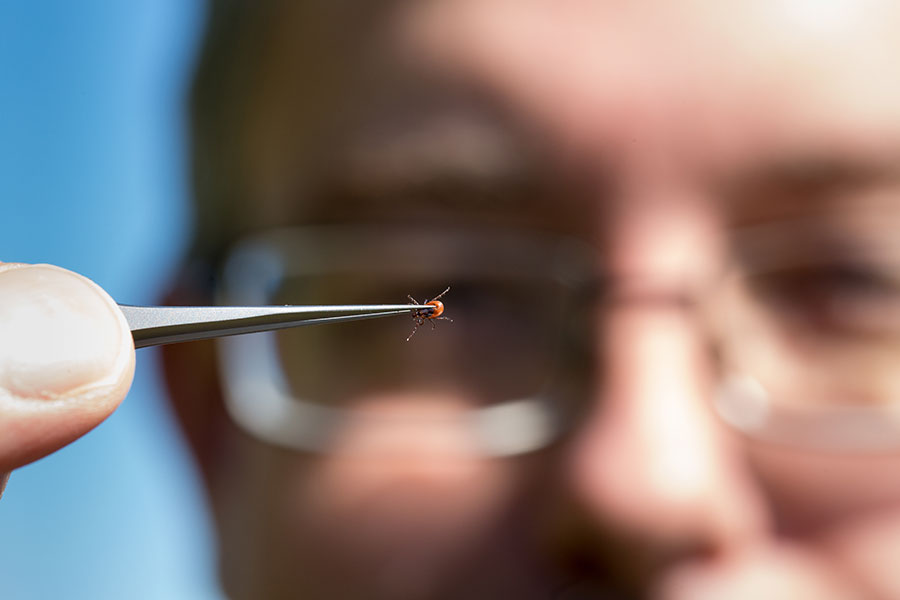 Ticks, says Oliver, lay eggs in leaf litter. The larvae attach to mice, their preferred food, while the adults prefer deer. If infected with Borrelia, both larvae and adults can pass the bacteria to their mammalian hosts.
And the environment plays a big role.
When natural prairie and woodlands were turned to cornfields, mice thrived. Mice could pass Borrelia-infected tick larvae to deer in islands of forest, where hunters and hikers could pick up infected adult ticks. Also, Oliver explains, since ticks can't drink water, they spit a salt solution onto their mouthparts. Because this solution absorbs atmospheric water, climate change may favor ticks by warming the air and raising the humidity.
How to control ticks? It's complicated. Deforestation may have helped ticks by creating more mouse habitat, while reforestation to reduce mice habitat could make things worse by boosting deer populations.
"Tick-borne disease and tick spread geographically are complex problems," says Oliver. "We need to have people in government health departments, forestry, and wildlife management working with physicians, veterinarians, and academics to make headway in controlling tick-borne diseases."
A One Health approach.