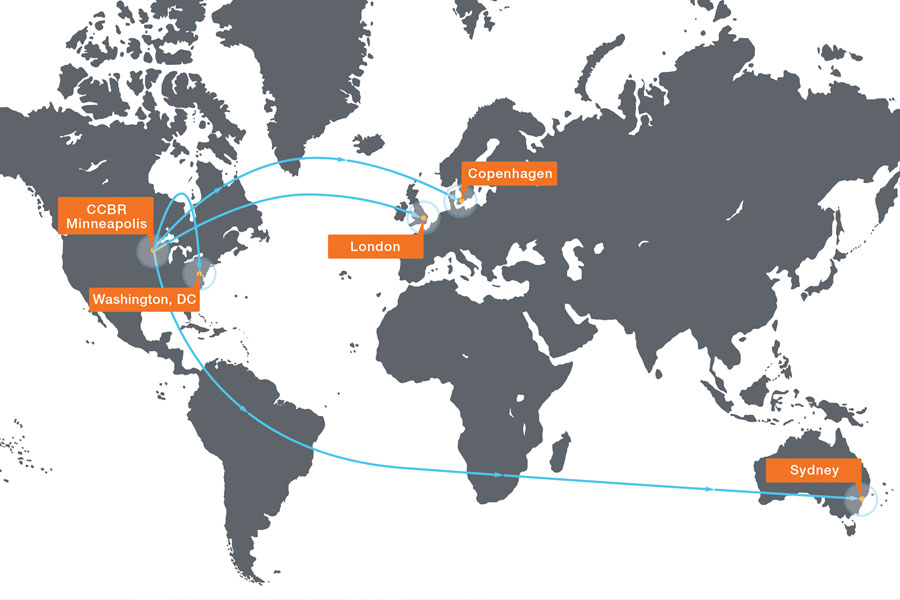 On Memorial Day weekend of this year, the National Institutes of Health (NIH) contacted School of Public Health professor Jim Neaton to see if he would be interested in leading a clinical trial of a class of treatments that could potentially neutralize SARS-CoV-2, the virus that causes COVID-19. At that point, our country was well on its way to being the global hotspot of the pandemic.
Part of the trial funding would come from Operation Warp Speed, a public/private effort to accelerate development, production, and distribution of COVID-19 treatments and vaccines.
To determine the effectiveness of the treatment, NIH needed a trusted global clinical trial expert and a network with a reputation for leading agile, strictly regulated, and collaborative studies. It chose Neaton and the infectious disease clinical trial network he heads up, INSIGHT (International Network for Strategic Initiatives in Global HIV Trials).
By May 31, Neaton and his team began enrolling clinical sites around the world for the trial in partnership with seven international coordination centers. Neaton is running the study, called ACTIV-3 (Accelerating COVID-19 Therapeutic Interventions and Vaccines), from the Coordinating Centers for Biometric Research (CCBR), part of the Division of Biostatistics at the School of Public Health (SPH).
CCBR is one of the top places in the world for design and management of large, global clinical trials, and has built that reputation on a nearly 50-year history of improving the way we research treatments for life-threatening diseases. It has tackled the most stubborn health challenges, including cardiovascular disease, HIV/AIDS, influenza, Ebola, and now COVID-19.
Promising from the start
Neaton directs CCBR, a tight-knit team of staff and faculty brought together by Neaton and SPH professor and biostatistician John Connett. Data coordinating centers, such as CCBR, specialize in managing the details of clinical research studies and the array of data and information that flows in and out as the trial proceeds.
CCBR is built on a foundation of groundbreaking studies from the Division of Biostatistics (the Division of Biometrics until 1987). One was the Multiple Risk Factor Intervention Trial (MRFIT), launched in 1973 when the elements that contribute to heart disease were still not commonly understood. It became one of the most discussed clinical trials of the past century and its positive findings have had a major impact on cardiac disease prevention and on research that followed.
"If you think about all of the things we take for granted when it comes to being healthy, a lot of that advice came out of MRFIT," says Professor Joe Koopmeiners, head of the Division of Biostatistics. "It was one of the very first studies that proved the benefits to your heart health of reducing cholesterol and blood pressure levels and quitting smoking."
Scientists have long-considered the quality and analysis of the MRFIT data to be exceptional. That attention to data — the lifeblood of any clinical trial — became a cornerstone of CCBR's methods and one reason for its international standing.
With the division's legacy in large trial design and data collection and analysis, CCBR was positioned to tackle an emerging disease that seemed unstoppable and utterly puzzling: AIDS.
INSIGHT
In 1990, Neaton and CCBR received their first grant from NIH's National Institute of Allergy and Infectious Diseases (NIAID), which continues to fund the center's studies, including some of the current COVID-19 trials. That year, Neaton launched a trial across the U.S. to investigate how to slow the progression of AIDS and treat or prevent associated opportunistic infections. At that time, more than 100,000 people in the U.S. had AIDS and, in 1992, the disease became the leading cause of death for men aged 25-44.
That work in the U.S. was the foundation for Neaton's interventional global studies with INSIGHT, one of the world's largest collaborations of researchers studying HIV treatment strategies. In 2006, Neaton was named INSIGHT's principal investigator (PI) and set up a network of clinical sites in 40 countries around the world.
Two INSIGHT trials — SMART and START — changed the way HIV was treated around the world, showing, respectively, that the practice of starting and stopping the use of antiretroviral drug treatments for people with HIV actually increased AIDS and non-AIDS conditions and that patients with HIV should receive treatment as soon as they were diagnosed, rather than waiting for a low CD4 (white blood cells that fight infections) count. WHO and many countries updated their treatment guidance within a few months of the START results being published in 2015.
CCBR is one of the top places in the world for design and management of large, global clinical trials, and has built that reputation on a nearly 50-year history of improving the way we research treatments for life-threatening diseases.
The extensive international network that INSIGHT built became an incredible resource for emerging global threats, and when Ebola exploded across West Africa in 2014, the Liberian government asked the U.S. to partner with it on new approaches to treatment and prevention. In August, NIH chose Neaton to lead data management activities for a clinical research program in West Africa. Neaton and his team quickly designed a vaccine trial in collaboration with Liberian scientists. The trial got under way in February 2015.
When the epidemic waned, CCBR continued to work in Liberia on a large study of Ebola survivors and, in 2020, CCBR associate director and SPH professor Cavan Reilly is using the network CCBR established there to conduct an observational study of individuals who test positive for COVID-19.
Public health as the driving force
All trials have many things in common: a purpose; a protocol (the ground rules of the trial); participant enrollment; and plans to follow participants for a specific timeframe or until a predetermined outcome is reached. But among the things that sets CCBR apart is both how it designs and conducts trials and the goal that drives the group.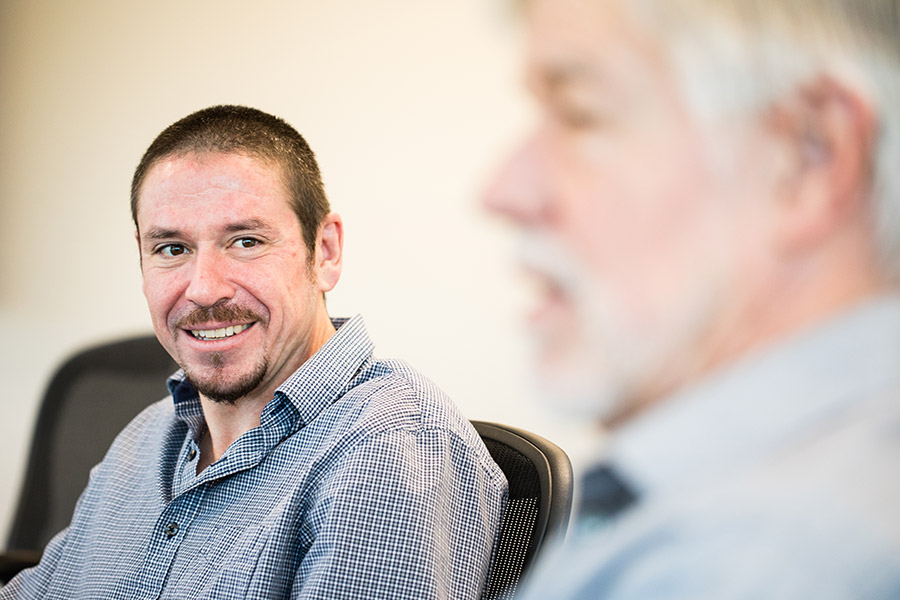 CCBR manages every aspect of clinical trials in-house, from writing the protocol and developing data collection instruments to daily reviews and reporting of collected data. By keeping all clinical trial activities within its scope, CCBR and its partners maintain control over their work.
Public health drives all of CCBR's work and that's unusual in the clinical trial arena. Pharmaceutical companies are in the clinical trial business and they contract out much of that work. CCBR and other academic groups are part of the constellation of organizations that investigate the efficacy of pharmaceutical interventions, as it's doing now with its ACTIV-3 study. But CCBR holds the interests of public health above those of the pharmaceutical industry.
"CCBR is really focused on public health," says Reilly. "If I'm a pharmaceutical company, I'm in the business of generating drugs, showing they work, and getting FDA approval. When CCBR designs trials, its goal is to discern the best public health impact. And that might overlap with whether the drug works, and it might not."
Prepared for the future
CCBR has always been about collaboration, partnership, and sharing expertise with people around the world. And despite its great successes, CCBR remains as humble as its founders, Neaton and Connett. Both men are inching toward retirement and the next generation of biostaticians, including Reilly, will take CCBR into the future.
CCBR's dedication to public health — Reilly calls that "immutable" — and strict data collection methods will not change as new global threats emerge and treatments and drugs need to be tested. Neaton and Connett built a world-class group that will undoubtedly continue to make discoveries, as they did with heart disease and HIV/AIDS, that address the most serious health concerns whether they are raging today or emerging tomorrow.